PRO PUZZLE MAT 2cm Interlocking Gym Floor Fitness Yoga
New version of PRO 2cm foam mats!
New, more stable and stronger joints, density corresponding to tatami mats
( very heavy weight of a single mat 2cm ~ 1,8kg!),
specially adjusted hardness that perfectly absorbs energy during falls, throws and falls!
The surface of the mat embossed with 5 stripes structure - anti-slip enough and comfortable for everyday training.
PRO mat 2cm:
The auction is for one piece of mat.
Colour: grey - green. See our full offer for wide range of other colours and thicknesses.
Thickness: 2cm
Dimensions of one puzzle: 100cm x 100cm + edges (4 edges for each mat)
Material: rubber foam (EVA)
The surface of the PRO mat has a five strips structure
Average weight: 1,8 kg, density: 80-90 kg/m³,
The professional PRO mat is ideal for fitness and training rooms, as well as for: the rehabilitation rooms, physiotherapy, home, kindergarten, playrooms, schools, common rooms, rest, relaxation. Foam PRO puzzles are ideal for all types of exercises: yoga, pilates, stretching, aerobics and more.
Our colors are a non-standard and the widest range of colours on the European market...
... it makes training rooms look modern and aesthetically pleasing.
The varied colours allow you to create any patterns, training zones, and above all it is visually attractive.
The size of the puzzle itself is 100x100cm , while the edges used increase its size to about 105x105cm.
Each PRO mat is protected with a 2cm edge, which can be used to obtain a regular shape in rooms, and is also used for protection during transport. The securing function of the mat effectively protects the ground against damage, as well as the exerciser against injuries and abrasions. In the case of irregular shapes, columns, pillars, each puzzle can be easily cut with an upholstery knife.
Mats, like any synthetic product, have their own characteristic smell, which evaporates after a few days after unpacking. They are stored and transported in plastic bags (instead of jute bags), therefore after opening they may require longer airing.
SAFETY - CERTIFICATES:
Eco-Analysis (no phthalate, benzene and toluene plasticizers),
Product tested for safety of chemical composition in use for children by the State Trade Inspection
Composition safety testing by the Materials and Environmental Engineering Laboratory
Examples of our projects: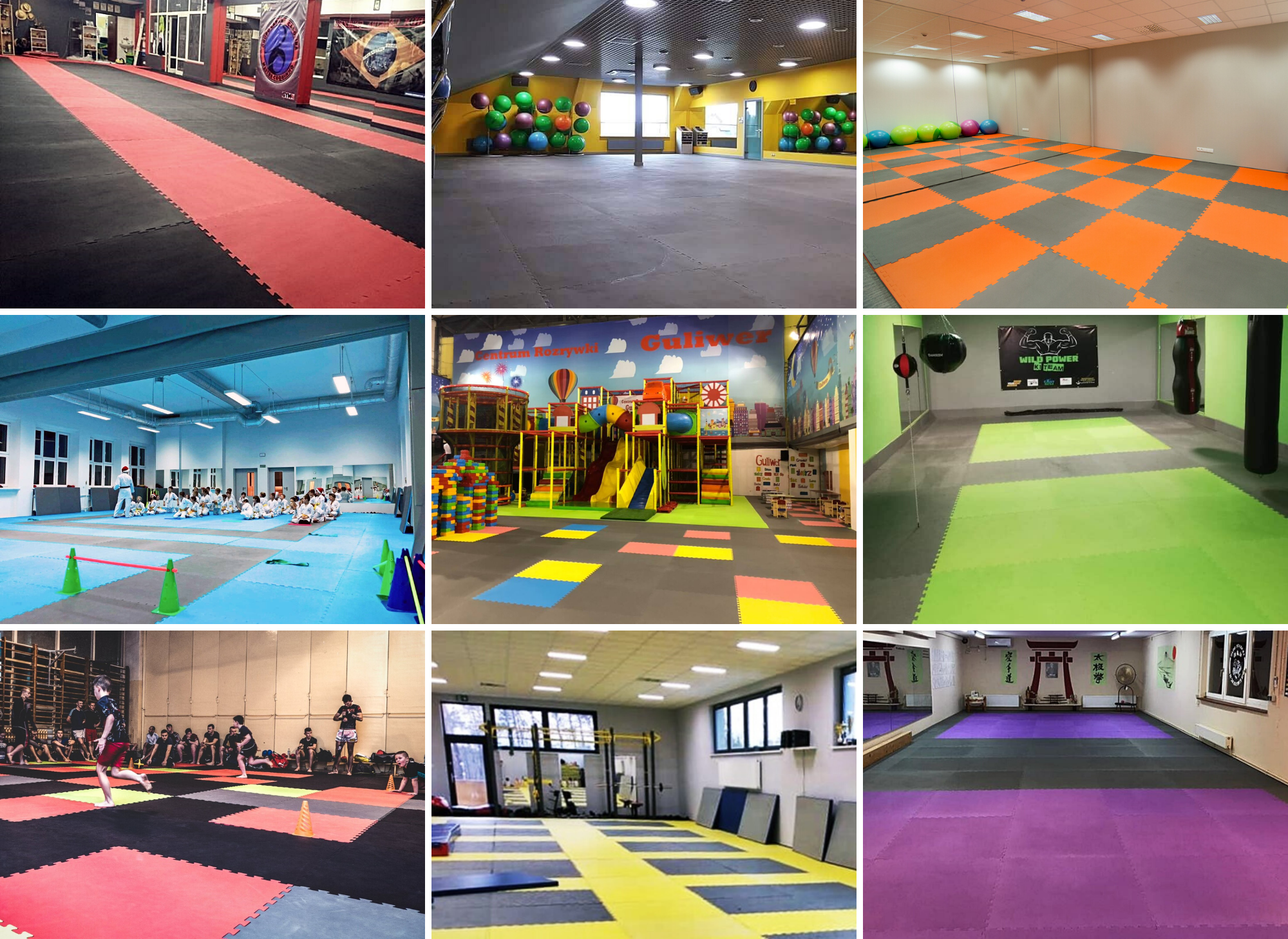 We have already equipped over 2,800 clubs and sports facilities operating on the Polish and foreign market, fitness centers, rehabilitation and physiotherapy centers.
We provide mats for budgetary units: army, police and fire brigade as well as schools and commercial playgrounds.
We are a proven and reliable supplier on the Polish market.
We supply mat to all European markets.
4cm Matte:
Matte für den gewerblichen Gebrauch bestimmt,
bietet exzellenten Komfort für Menschen, die darauf trainieren,
professionelle Matte für vielseitige Aktivitäten: Laufen, Springen, Pads,
doppelseitige Matte.
2,6cm Matte (fast 3 cm):
Matte für gewerbliche Nutzung,
für dynamische und statische Aktivitäten,
Hohe Dichte für Sicherheit und Dämpfung,
doppelseitige Farbmatte.
2cm Matte:
Matte für den gewerblichen, leichten Gebrauch bestimmt,
nicht geeignet für dynamische Übungen wie Laufen und Springen (für Personen über 50 kg),
sollte mit z.B. doppelseitiges Klebeband am Boden befestigt werden,
doppelseitige Matte.
1,5 cm Matte:
eine Matte, die den Komfort von Personen erhöht, die auf Parkett, Paneelen, Fliesen trainieren,
bestimmt für den Heimgebrauch oder die individuelle Arbeit mit dem Kunden,
verwendet in Rehabilitationsräumen und für das Training von: Yoga, Pilates, Stretching,
Es wird empfohlen die Matte mit z.B doppelseitiges Klebeband am Boden befestigen,
nicht geeignet für dynamische Übungen wie Laufen und Springen,
nicht für den kommerziellen Gebrauch bestimmt.
* WICHTIG!!! In letzter Zeit wurden die Fugen einiger Matten geändert. Wenn Sie Matten mit zuvor gekauften kombinieren möchten, wenden Sie sich bitte an das Geschäft - info@gym4shop.com.
** Maschinell gegossene EVA-Schaummatten können geringfügige Herstellungsfehler an ihrer äußeren Struktur aufweisen, die nicht mehr als 1 % der Mattenoberfläche bedecken oder einen Einfluss auf den Dickenunterschied von +/- 1-1,5 mm haben - diese Waren gelten als vollständig Produkt - von vollem Wert .