PRO PUZZLE MAT 4cm MMA Judo Gym Matrial Arts
New version of PRO 4cm foam mats!
New, more stable and stronger joints, density corresponding to tatami mats
( very heavy weight of a single mat 4cm ~ 3,5kg!),
specially adjusted hardness that perfectly absorbs energy during falls, throws and falls!
The surface of the mat embossed with 5 stripes structure - anti-slip enough and comfortable for everyday training.
PRO mat 4cm:
The auction is for one piece of mat.
Colour: black - blue. See our full offer for wide range of other colours and thicknesses.
Thickness: 4cm
Dimensions of one puzzle: 100cm x 100cm + edges (4 edges for each mat)
Material: rubber foam (EVA)
The surface of the PRO mat has a five strips structure
Average weight: 3 kg, density: 80-90 kg/m³,
Possible combination with any other colour in our company's PRO mats offer!
The professional PRO puzzle mat is ideal for fitness and training rooms, as well as for: the rehabilitation rooms, physiotherapy, home, kindergarten, playrooms, schools, common rooms, rest, relaxation. Foam PRO puzzles are ideal for all types of exercises: yoga, pilates, stretching, aerobics and more.
The varied colours allow you to create any patterns, training zones, and above all it is visually attractive.
The size of the puzzle itself is 100x100cm , while the edges used increase its size to about 105x105cm.
Each PRO mat is secured with a rim that protects it during transport - it is not subject to product quality assessment. The securing function of the mat effectively protects the ground against damage, as well as the exerciser against injuries and abrasions. In the case of irregular shapes, columns, pillars, each puzzle can be easily cut with an upholstery knife.
Mats, like any synthetic product, have a characteristic smell that evaporates a few days after unpacking. They are stored and transported in plastic bags (instead of jute bags), so they may require longer airing after opening.
SAFETY - CERTIFICATES:
Eco-Analysis (no phthalate, benzene and toluene plasticizers) - 2018,
Product tested for safety of chemical composition in use for children by the State Trade Inspection - 2019
Composition safety testing by the Materials and Environmental Engineering Laboratory - January 2020
Examples of our projects: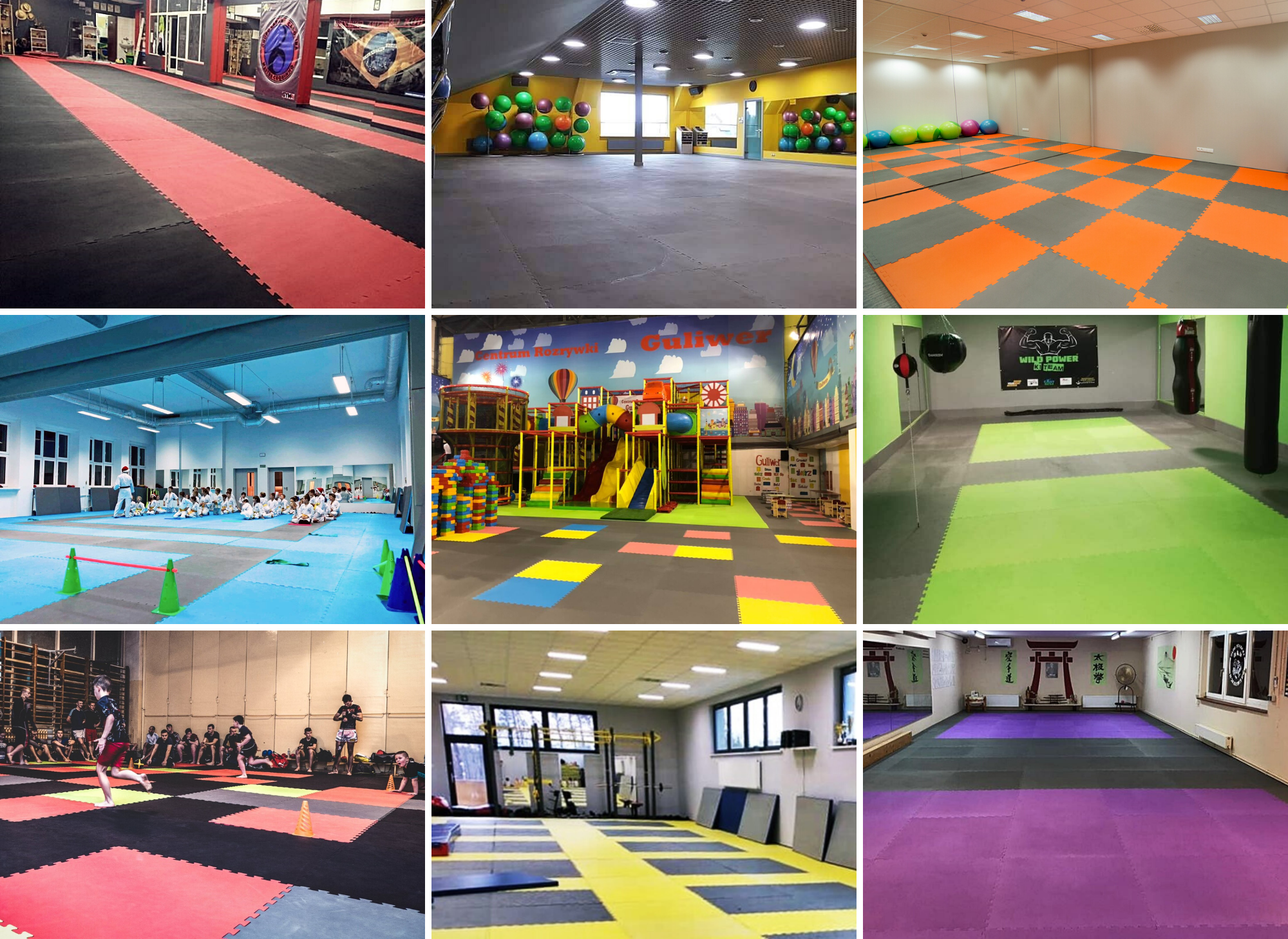 We have already equipped over 2,800 clubs and sports facilities operating on the Polish and foreign market, fitness centers, rehabilitation and physiotherapy centers.
We provide mats for budgetary units: army, police and fire brigade as well as schools and commercial playgrounds.
In 2019/20, we delivered almost 3,000 m² for the Polish Judo Association.
We are a proven and reliable supplier on the Polish market.
We supply mat to all European markets.
4cm mat:
mat intended for commercial use,
provides excellent comfort for people exercising on it,
professional mat for versatile activity: running, jumping, pads,
double-sided mat.
2cm mat:
mat intended for commercial use - light,
not suitable for dynamic exercises such as running and jumping (for people over 50kg),
should be attached to the ground with e.g. double-sided tape,
double-sided mat.
1.5cm and 1cm mat:
a mat designed to increase the comfort of people exercising on parquet, panel, tiles,
intended for home use or individual work with the client,
used in rehabilitation rooms, for training: yoga, pilates, stretching,
it is recommended to attach the mat to the ground using e.g. double-sided tape,
not suitable for dynamic exercises such as running and jumping,
not intended for commercial use.
*From November 2021 we have changed the connections of 4cm mats - if you want to combine new mats with mats already purchased, please contact the store (email: info@gym4shop.com or message the seller )
** Mats, as a machine cast, made of EVA foam, may have minor manufacturing defects on their external structure, which do not cover more than 1% of the mat surface or concern a difference in thickness of +/- 1-1.5 mm - such goods are considered to be of full value.