Mata PUZZLE 2cm piankowa gimnastyczna do ćwiczeń fitness
Kolor: SZARO- CZARNY
II GATUNEK
OFERTA dotyczy mat "drugiego gatunku"
Mata "drugiego gatunku" może posiadać nieznaczne wady produkcyjne (przykłady na zdjęciu poniżej)
nie mające wpływu na użytkowanie oraz parametry fizyczne maty.

---------------------------------------------------------------------------------------------------------
Mata PRO 2cm:
Kolor: szaro-czarny. W ofercie dostępne inne kolory i grubości mat.
Grubość: 2cm
Wymiary 1 puzzla: 100cm x 100cm + obrzeża (4 krawędzie do każdej maty)
Materiał: pianka kauczukowa (EVA)
Zewnętrzna struktura: drobna kratka; słoma lub paski z obu stron w zależności od dostępności
Średnia waga: 2 kg, gęstość: 80-90 kg/m³
Możliwość dowolnego połączenia z każdym innym kolorem maty PRO z naszej firmy!
Profesjonalna mata PRO idealnie sprawdza się do sali fitness i sali treningowej, a także do: gabinetu rehabilitacyjnego, fizjoterapii, domu, przedszkola, bawialni, szkoły, świetlicy, poczekalni, pokoju zabaw, odpoczynku, relaksu. Piankowe puzzle PRO nadają się idealnie do wszelkiego rodzaju ćwiczeń: jogi, pilates, stretchingu, aerobiku i innych.
Nasze kolory to niestandardowa i najszersza paleta barw na rynku europejskim (22 zestawienia kolorystyczne)...
...to sprawia, że sale treningowe wyglądają nowocześnie i estetycznie.
Uniwersalna dwustronna kolorystyka pozwala na tworzenie dowolnych wzorów, stref treningowych, a przede wszystkim jest atrakcyjna wizualnie.
Sam wymiar puzzla to 100x100cm, podczas gdy zastosowane krawędzie powiększają jej rozmiar na około 105x105cm.
Każda mata PRO jest zabezpieczona 2cm brzegiem/krawędzią, która może być wykorzystana do uzyskania regularnego kształtu w pomieszczeniach, a także służy do ochrony podczas transportu. Funkcja ochronna maty skutecznie zabezpiecza podłoże przed zniszczeniem, jak również ćwiczącego przed urazami i otarciami. W wypadku nieregularnych kształtów, słupów, filarów, każdego puzzla można łatwo dociąć nożykiem tapicerskim.
BEZPIECZEŃSTWO - CERTYFIKATY:
Maty z Certyfikatem Bezpieczeństwa CE,
Eko-Analizą (brak plastyfikatorów ftalanowych, benzenu i toluenu) - rok 2018,
Produkt przebadany pod kątem bezpieczeństwa składu chemicznego w użytkowaniu dla dzieci przez Państwową Inspekcję Handlową - rok 2019
Badanie bezpieczeństwa składu przez Laboratorium Inżynierii Materiałowej i Środowiska - styczeń 2020
Nasze przykładowe realizacje: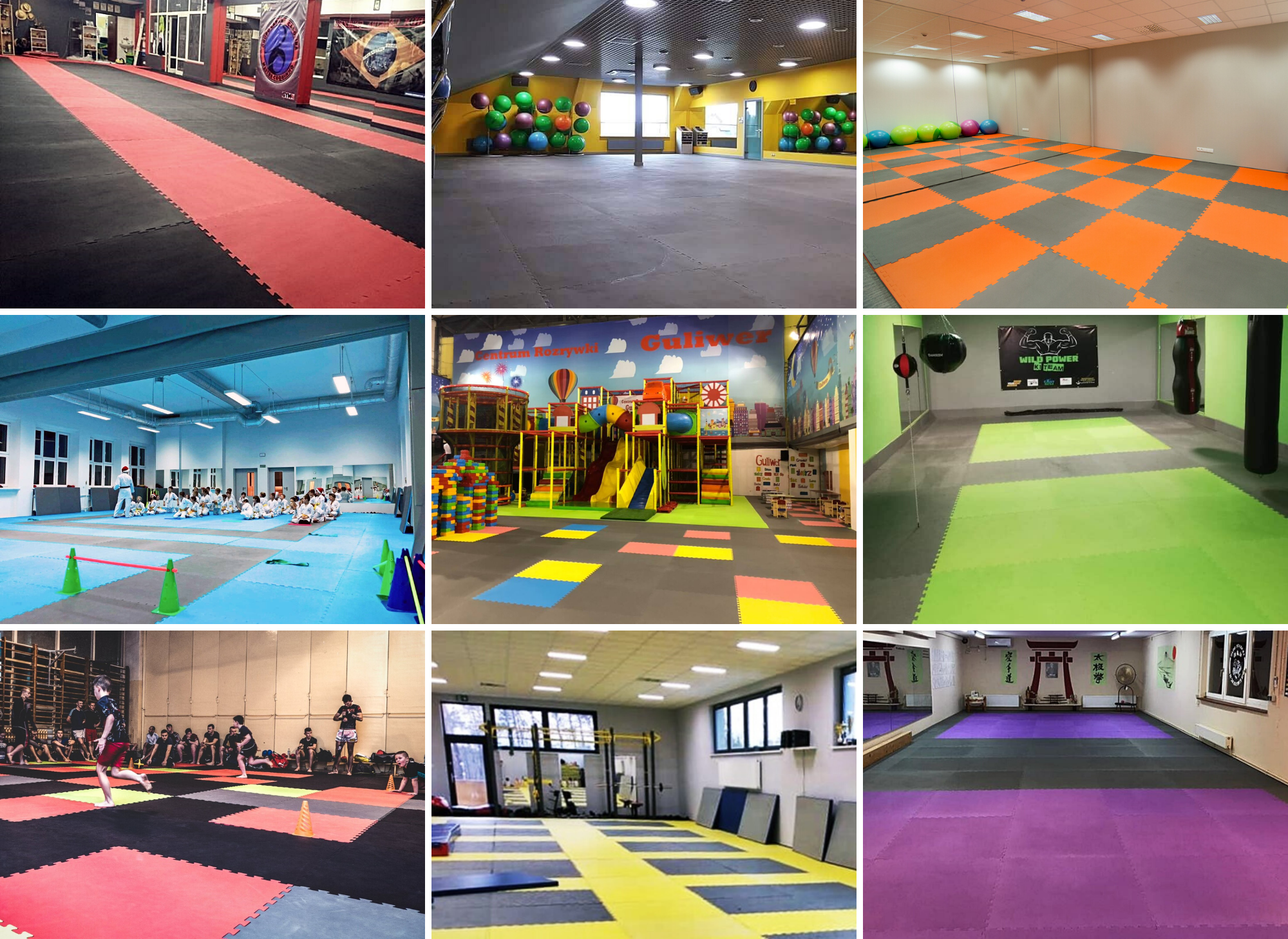 Wyposażyliśmy już ponad 2800 klubów i obiektów sportowych działających na rynku polskim i zagranicznym, centrów fitness, ośrodków rehabilitacyjnych i fizjoterapeutycznych.
Dostarczamy maty do jednostek budżetowych: wojska, policji i straży pożarnej jak również szkół i komercyjnych placów zabaw.
W roku 2019/20 dostarczyliśmy prawie 3000 m² dla Polskiego Związku Judo.
Jesteśmy sprawdzonym i rzetelnym dostawcą na rynku polskim.
Dostarczamy matę na wszystkie rynki europejskie.
Mata 4cm:
mata przeznaczona do użytku komercyjnego,
zapewnia doskonały komfort ćwiczącym na niej osobom,
profesjonalna mata dla wszechstronnej aktywności: biegi, skoki, pady,
mata o dwustronnej kolorystyce
Mata 2cm:
mata przeznaczona do użytku komercyjnego - lekkiego,
nie nadaje się do ćwiczeń dynamicznych typu bieg i skoki (dla osób o wadze powyżej 50kg),
powinna być przytwierdzona do podłoża za pomocą np: taśmy dwustronnej,
mata o dwustronnej kolorystyce.
Mata 1,5cm i 1cm:
mata przeznaczona dla zwiększenia komfortu osób ćwiczących na podłożu typu parkiet, panel, płytki,
przeznaczona do użytku domowego lub pracy indywidualnej z klientem,
używana w gabinetach rehabilitacyjnych, do treningów: jogi, pilatesu, stretchingu,
zalecane jest przytwierdzenie maty do podłoża przy pomocy np. taśmy dwustronnej,
nie nadaje się do ćwiczeń dynamicznych typu bieg i skoki,
nie przeznaczona do użytku komercyjnego.