NEW IN OFFER!!!
Puzzle mat 1cm 60x60cm:
THE AUCTION IS FOR ONE PIECE OF MAT + 2 EDGES
Colour: blue. Other colors and patterns of mats are available in offer.
Thickness : 1 cm- one-sided mat
Dimensions of one puzzle: 60cm x 60cm + 2 edges
Material: rubber foam (EVA)
The surface of the PRO mat has a fine grid structure (T-pattern) - on the other side, the surface is smooth
Average weight: 0,3 kg, density: 80-90 kg/m³,
✔️ protects the substrate from damage
✔️ comfort of use
✔️ reduces the noise level
✔️ insulates from hard and cold ground
The mats are made of EVA rubber foam, thanks to which the corners do not fray and the joints do not crumble.
In addition, the material does not absorb water, so the surface is easy to keep clean . It can be wiped with plain water and universal liquid, as well as with mild disinfectants.
The mats are resistant to weather conditions, so they can be used both indoors and outdoors - on terraces, in gardens and under the swimming pool, as a leveling surface.
At least 4 mats are required to close the surface with the edges ..
4pcs. = 1,44m2 + 8 edges
6pcs.= 2,16m2 + 12 edges (including 10 needed to complete the circuit)
8pcs.= 2,88m2 + 16 edges (including 12 needed to complete the circuit)
9pcs.= 3,24m2 + 18 edges
ITD.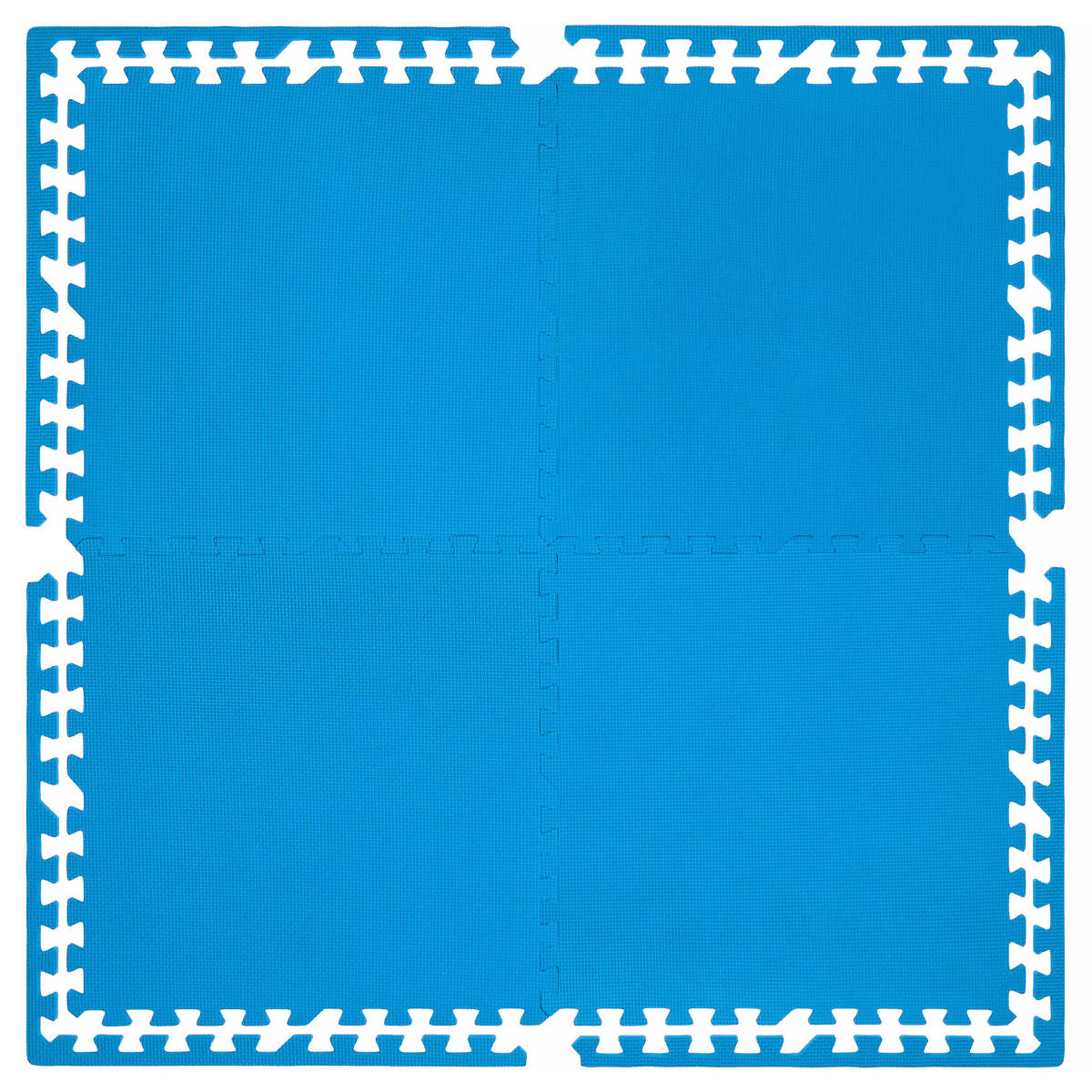 Anyone color can be combined!!!
All available colors connect to each other like puzzles, so they can be arranged in any configuration..
...this makes your room not only safe, but also modern and aesthetic!
❇️ Gym4 mats do not contain phthalates, formamide, PAHs, cadmium, benzene or any other substances harmful to health.
✔️ are certified throughout the EU
✔️ they are safe for use by children!
❤ SAFETY - CERTIFICATES:
Eco-Analysis (no phthalate, benzene and toluene plasticizers),
Product tested for safety of chemical composition in use for children by the State Trade Inspection
Composition safety testing by the Materials and Environmental Engineering Laboratory
---
↓ The offer also includes mats 100x100cm ↓
4cm mat:
mat recommended for commercial use,
mat for dynamic activity: running, jumping,
provides excellent comfort for people exercising on it,
hardness that absorbs energy on throws, falls,
mat with double-sided colors
3cm mat:
mat used for commercial use,
for both dynamic and static activities,
high density for safety and cushioning
mat with two-sided colors.
2cm mat:
mat used for light commercial use,
not suitable for dynamic exercises such as running and jumping (for people weighing more than 50 kg),
should be attached to the ground with e.g. double-sided tape,
mat with two-sided colors.
1,5cm mat:
intended for home, private use or individual work with a client,
not for commercial use,
mat used to increase the comfort of people exercising on a floor such as parquet, panel, tiles,
used in rehabilitation rooms, for training, e.g. yoga, pilates, stretching,
it is recommended to attach the mat to the ground with e.g. double-sided tape,
not suitable for dynamic exercises like running and jumping,
mat with one-sided colors.
* Mats, as a machine cast, made of EVA foam, may have minor manufacturing defects on their external structure, which do not cover more than 1% of the mat surface or concern a difference in thickness of +/- 1-1.5 mm - such goods are considered to be of full value.